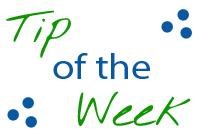 We'll post a new tip each week.
"In order to be irreplaceable one must always be different." – Coco Chanel
__________
"Good business leaders create a vision, articulate the vision, passionately own the vision, and relentlessly drive it to completion." – Jack Welch
__________
"If opportunity doesn't knock, build a door" Milton Berle
__________
"Choose a job you love, and you will never have to work a day in your life," Confucius
__________
"Be so good they can't ignore you" – Steve Martin
__________
"Always deliver more than expected" Larry Page, co-founder of Google
__________
"Every problem is a gift — without problems we would not grow." – Anthony Robbins
__________
Success seems to be connected with action. Successful people keep moving. They make mistakes, but they don't quit. — Conrad Hilton
__________
Providing good service to your customers is crucial to gaining their loyalty and retaining their business.
__________
If the plan doesn't work, change the plan but never the goal.
__________
"A business has to be involving, it has to be fun, and it has to exercise your creative instincts" – Richard Branson
__________
"Make each day your masterpiece." — John Wooden, UCLA Basketball Coach
__________
"The more honest and unique a person is, the more that person attracts people. It's the same for businesses". - Maxime Lagacé
__________
"The way to get started is to quit talking and begin doing." Walt Disney
__________
"Fight for the things that you care about, but do it in a way that will lead others to join you." — Ruth Bader Ginsburg
__________
"All progress takes place outside the comfort zone." - Michael John Bobak
__________
"Your talent determines what you can do. Your motivation determines how much you're willing to do. Your attitude determines how well you do it." —Lou Holtz
__________
"Every sale has five basic obstacles: no need, no money, no hurry, no desire, no trust" - Zig Ziglar
__________
"Obstacles don't have to stop you. If you run into a wall, don't turn around and give up. Figure out how to climb it, go through it, or work around it." — Michael Jordan
__________
"If you never want to be criticized, for goodness' sake don't do anything new." – Jeff Bezos
__________
"Don't be distracted by criticism. Remember – the only taste of success some people get is to take a bite out of you." – Zig Ziglar
__________
"If you are not willing to risk the usual, you will have to settle for the ordinary." – Jim Rohn
__________
"A business has to be involving, it has to be fun, and it has to exercise your creative instincts." – Richard Branson
__________
Don't sit down and wait for the opportunities to come. Get up and make them." - Madam C.J. Walker, first female self-made millionaire
__________
"An organization's ability to learn, and translate that learning into action rapidly, is the ultimate competitive advantage. Jack Welch
__________
"Desire is the key to motivation, but it's determination and commitment to an unrelenting pursuit of your goal—a commitment to excellence—that will enable you to attain the success you seek." — Mario Andretti, American race car driver
__________
"Success is not final; failure is not fatal: It is the courage to continue that counts." - Winston S. Churchill
__________
"Don't let the fear of losing be greater than the excitement of winning" – Robert Kiyosaki
__________
"Success is the sum of small efforts, repeated day in and day out" – Robert Collier
__________
"There's no shortage of remarkable ideas, what's missing is the will to execute them." – Seth Godin
__________
"Whether you think you can, or think you can't—you're right." — Henry Ford, founder of Ford Motor Co.
__________
"If you want more money for your business, stop waiting on other people, start serving more people, start sharing your story, start loving your work, start giving and you'll start receiving" – Howard Britt
__________
"Never give up! Failure and rejection are only the first step to succeeding." – Jim Valvano
__________
"Don't count the days, make the days count." — Muhammad Ali, American Professional Boxer
__________
"The price of success is hard work, dedication to the job at hand, and the determination that whether we win or lose, we have applied the best of ourselves to the task at hand." — Vince Lombardi
__________
"When we strive to become better than we are, everything around us becomes better too." — Paulo Coelho, Brazilian lyricist and novelist
__________
"Change is not a threat, it's an opportunity. Survival is not the goal, trans-formative success is." – Seth Godin
__________
"Train people well enough so they can leave, treat them well enough so they don't want to." Richard Branson, founder of Virgin Group
__________
"Before you are a leader, success is about growing yourself. When you become a leader, success is about growing others. ~ Jack Welch, General Electric"
__________
"Fall seven times, stand up eight." — Japanese Proverb
__________
"Don't sit down and wait for the opportunities to come. Get up and make them" - Madam C.J. Walker, first female self-made millionaire
__________
"We are what we repeatedly do. 
Excellence
 then is not an act but a habit." – Aristotle
__________
"Don't try to beat the competitors at their own game. You have to invent a new game - and master it." Reid Hoffman (LinkedIn)
__________
"Do what you love and success will follow. Passion is the fuel behind a successful career." Meg Whitman, CEO of Quibi
__________
"Anything that is measured and watched, improves." — Bob Parsons, founder of GoDaddy
__________
"Even if you are on the right track, you'll get run over if you just sit there." – Will Rodgers
__________
"Chase the vision, not the money, the money will end up following you." - Tony Hsieh, CEO of Zappos
__________
"If your ship doesn't come in, swim out to meet it!" – Jonathan Winters
__________
"One of the tests of leadership is the ability to recognize a problem before it becomes an emergency." Arnold H. Glasow
__________
"Identify your problems but give your power and energy to solutions." – Tony Robbin
__________
"A successful person is one who can lay a firm foundation with the bricks that others throw at them."-- David Brinkley
__________
"Yesterday's home runs don't win today's games." – Babe Ruth
__________
"The only place where success comes before work is in the dictionary." – Vidal Sassoon
__________
"Success seems to be connected with action. Successful people keep moving. They make mistakes, but they don't quit." --  Conrad Hilton
__________
"Don't be afraid to give up the good to go for the great." --John D. Rockefeller
__________
"Some people dream of success, while other people get up every morning and make it happen". — Wayne Huizenga, prolific American business person, owner of Blockbuster Video and the Miami Dolphins.
__________
Rule No. 1: Never lose money; rule No. 2: Don't forget rule No. 1." – Warren Buffett, CEO of Berkshire Hathaway
__________
"There are no secrets to success. It is the result of preparation, hard work and learning from failure." – Colin Powell
__________
"There is only one boss. The customer. And they can fire everybody in the company from the chairman on down, simply by spending their money somewhere else." – Sam Walton, Founder of Walmart
_________
"Success is not the key to happiness. Happiness is the key to success. If you love what you are doing, you will be successful." - Albert Schweitzer
__________
"If people like you, they'll listen to you, but if they trust you, they'll do business with you." — Zig Ziglar, author, salesman, and motivational speaker.
__________
"Always deliver more than expected."
__________
Deliver an experience your customers won't forget. Think of some of your favorite products, services or brands. What is it about them that keeps you loyal?
Customer Experience. Customer experience has a domino effect. If you do it well, you will see a boost in positive brand awareness, traffic, and loyal customers to your place of business. "Create memorable experiences for customers and go the extra mile. That effort will pay dividends."
__________
Doing business without promotion and advertising is like waving to people in the dark. You know what you're doing ... but nobody else does.
__________
Eight Ways to Improve the Success of Your Business:
Create brand personality.
Develop a strategic business plan, organizational structure, and operational support systems.
Avoid common mistakes.
Become connected to the community.
Put your employees first.
Don't just acquire customers, retain them.
Get organized.
Carve out a niche.
__________
Customer Service "Reigns Supreme"- According to a study by NewVoiceMedia, 51% of customers will not repeat business with a company after a bad service experience. Other studies have shown that it takes several positive customer experiences to make up for a negative one (if they even give you the chance). Given that loyal customers make a much easier sell, make excellent customer service a top priority. Examine your current customer service and make the changes that need to be made to ensure that your business is providing service superior to that of your competitors. You may need to invest in staff training, revamp your return policy, or make basic improvements such as responding promptly to voicemails or emails from customers.
__________
Don't sell products or service, "Deliver Solutions." Like it or not, folks out there aren't searching for your brand, they're just looking to solve a problem or find a particular type of product or service to meet their need. Instead of listing all the benefits your services and products bring, focus on the solutions. Convey to the customer in simple, straight-forward terms how or why your product can help them or assist in the attainment of their need(s). Consider FedEx's iconic slogan: When it absolutely, positively has to be there overnight. This is a clear example of addressing wide-spread anxiety about the reliability of delivery services. Run through some market research to profile your target customer. How does your product or service solve other people's needs and make their lives easier or more pleasurable? There is your focus!