Junior Leadership Charlotte
Now in its 29th year, Junior Leadership Charlotte is a Charlotte County Chamber of Commerce program designed for high school Juniors and Seniors.  Students who wish to be considered for JLC should complete the application, available in schools at the start of their 2022-2023 term (about August 19th).
The selection process is based on your answers to the questions on the application.  Remember to be thoughtful and answer each question completely.  Your answers need to be typed.  Kindly refer to the application for further instructions.  Deadline for submitting application is September 2, 2022.    Print the Junior Leadership Charlotte Application for the class of 2022-2023 from this link.
A little History:
JLC was originally created by the Leadership Charlotte Class of 1993 as their community project.  Ongoing since its inception, this exciting program is aimed to enhance the educational experiences and knowledge about local opportunities for the students who participate.
About Junior Leadership Charlotte
The Junior Leadership Charlotte program offers students from our local high schools an opportunity
to develop positive leadership qualities and a sense of community.   It is an interaction between today's community leaders and tomorrow's future leaders.  The program is designed to heighten the awareness of the needs of our community and to show each student how they can make a difference.  It highlights the careers and life-style available to everyone who chooses to call Charlotte County their home.
Thanks to the generous support of the business community there is no cost to the students selected for JLC.  Students attend sessions on Team Building, Local Economy and Careers,  Environment, Community Services, Government/Justice, Healthcare, Arts & Humanities and participate in a Community Service Project prior to their Graduation from the program.
For more information about the JLC program please contact Bob White, Executive Director of the Charlotte County Chamber 941-627-2222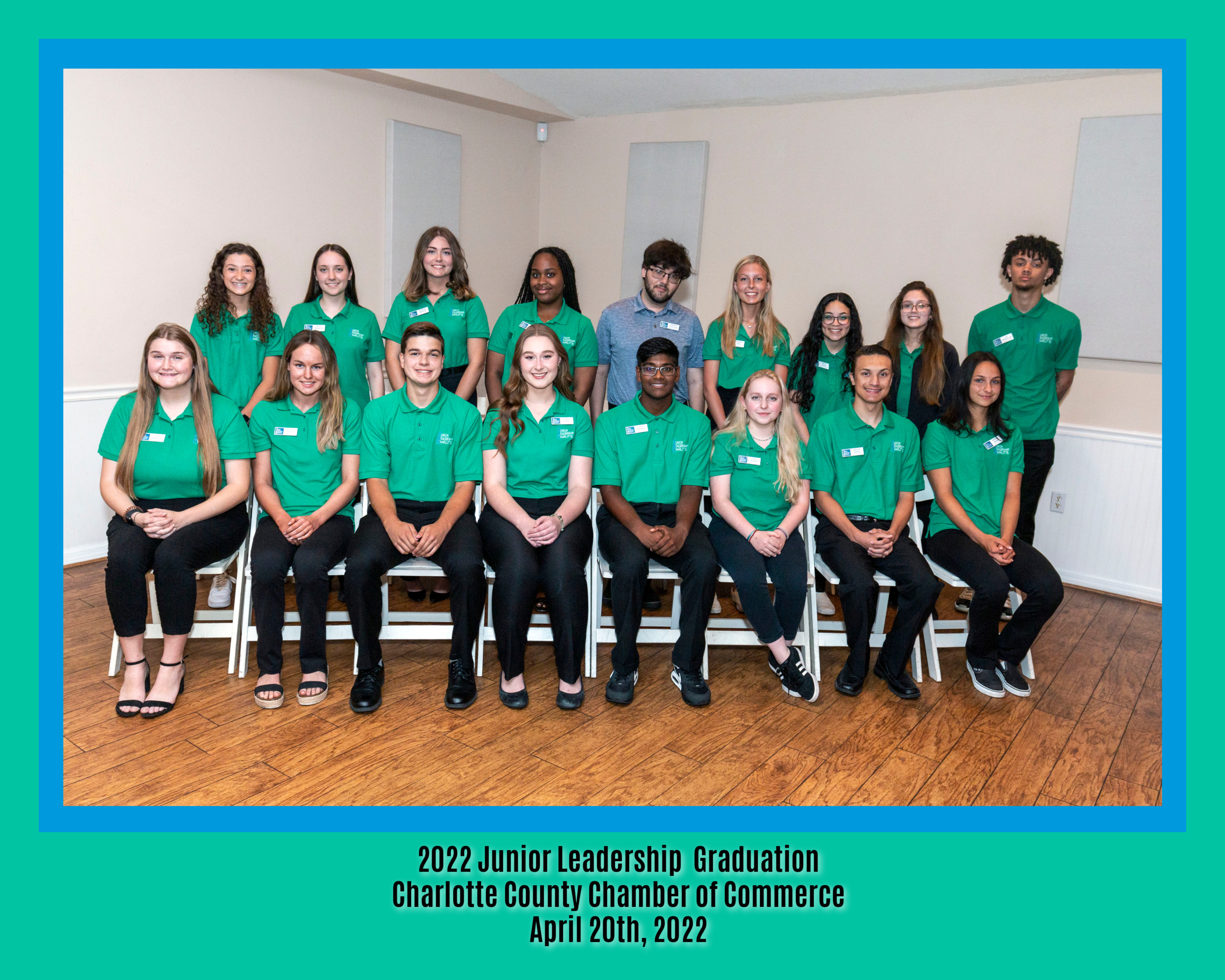 Congratulations to the Junior Leadership Charlotte Class of 2022 on their Graduation from the Program!  (2022 was a special year because it  included Senior Students who were not able, due to Covid-19 restrictions, to participate in 2021.)
Juniors: Anna Briscoe, Natalee Brown, Molly Cabral, Bryce Eaton, Kailee Harrison, Hunter Ingram, Jake Jaikaran, Saskya Laroche, Anai Roca, Bracelyn Tuck, Daron Woods, Jr., Becky Zhang
Seniors: Meghan Brown, Jada Carter, Dyana Donovan, Jacqueline Hawley, Gabrielle Martin, Parker O'Sullivan, Frederick Raftis, Ashley Viera, Summerlin Williams
Not Pictured:  Dyana Donovan, Becky Zhang, Jada Carter.
Special Thanks to Committee Chairs:  Mike Martin, State Farm Insurance and Darcy Woods, Wrightway Emergency Services/24Twenty One Event Center and to the businesses who helped either with a donation or by time and talent to enhance the JLC experience for the class:  Charlotte County Airport Authority, Animal Welfare League, Axis Companies, Banks Engineering, Beef O'Brady's, Captain's Table, Charlotte Community Foundation, Charlotte County Commissioners, Charlotte County Emergency Management, Charlotte County Fire Training Facilities, Charlotte County Landfill, Charlotte County Meals on Wheels, Charlotte County Sheriff's Office, Charlotte High SGA Advisor-Emily Klossner, Charlotte Players, Charlotte State Bank, Chick-Fil-A, City Council, Clerk of the Court, Dale Carnegie, WrightWay Emergency Services, Emily Lewis, Fisherman's Village, Gator Wilderness Camp School, Habitat for Humanity Re-Sale Shop, King Fisher Fleet, Life Care Center of Punta Gorda, State Farm Insurance, Military Heritage Museum, Morgan Stanley-Peace River Team, Nix & Associates, Peace River Botanical & Sculpture Gardens, Peace River Wildlife Center, Punta Gorda Airport, Charlotte County School Board, State Attorney's Office, Suncoast Media, Sunny Days Ice Cream, 24twentyone Event Center, The Menard Team, Visual Arts Center, Whitco Insurance, Worden Farms, and Wotitzky, Wotitzky, Ross, McKinley & Young, PA.