Lots of things happening, for more information click on the forms and files listed below or call the office at 941-627-2222 if you don't see what you are looking for.
Welcome a New Teacher and treat them to breakfast on Wednesday, July 28 at 7:30 a.m. at the Charlo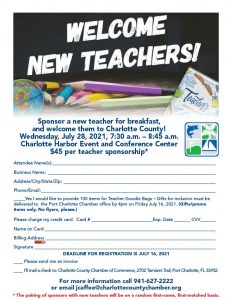 tte Harbor Event and Conference Center.  Your $45 sponsorship includes breakfast for you and a teacher.  The paring of sponsors with new teachers will be on a random first-come, first-marched basis.   Sponsors are invited to provide 100 gift/promotional items for Teacher Goodie Bags - Gifts for inclusion should be delivered to the Port Charlotte Chamber office by 4 p.m. on Friday, July 16. (Gifts/promo items only, No flyers, please.)  Register for this event through the membership portal (MIC) or complete and return the digital New Teachers' Breakfast Flyer 2021.
Become a Charlotte County Chamber of Commerce Sustaining Partner Today!  Sustaining Partner businesses provide additional financial support to the Charlotte County Chamber of Commerce which, in turn, provides them with additional valuable membership benefits.  The program runs from October 1, 2021 through September 30, 2022.  Additional business exposure includes website listings, verbal recognition at all of our events, space on the traveling banner at all our events, newsletter inserts, ad space in our new Fir$t Thur$day Adverti$er and much more.   We need your commitment by August 13th in order to include you on the Sustaining Partner page in the new 2022 Community Guide.  Please complete the fillable 2021-2022 Sustaining Partner form to make your choice of three levels of sponsorship or call chamber staff at 941-627-2222 or email bwhite@charlottecountychamber.org for additional details.  These benefits are exclusively available to members in good standing.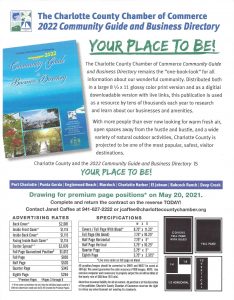 The Charlotte County Chamber of Commerce 2022 Community Guide and Business Directory is Your Place to Be!.  This is the "one-book-look" for visitors and residents throughout our community.  The guide, which includes live links to advertisers is posted on our website, as well as published in a large 8 1/2 x 11 glossy color print version.  Reserve your ad today to increase your visibility and promote your business.  Download the fillable 2022 Community Guide Contract
And members, now is a good time to log in and verify the information which will be published in the business directory portion of the 2022 Community Guide.
FIRST THURSDAY ADVERTISER AGREEMENT is an exclusive opportunity for members of the Charlotte County Chamber of Commerce.  Submit your JPG or PNG file to promote your business, event or special offer.  Distributed to over 3,000 email contacts monthly.  Cost is $145 per issue * Non-profit rate $95 per issue.
Quarterly Newsletter Flyer Insert Agreement Members, let your 8 1/2 x 11 inch flat flyer ride with our quarterly newsletter (July/October/January/April) the "Charlotte County Chamber Business Perspective."  We need your 1,500 inserts by the 20th of the month before and there is a small cost.
Mailing List Agreement 6-1-20 [Compatibility Mode] An address file (Contact Person, Business Name and Address) is available for purchase as a one-time-use Excel file for active members only.