Lots of things happening, for more information click on the forms and files listed below or call the office at 941-627-2222 if you don't see what you are looking for.
You are cordially invited to our 96th Annual Meeting Luncheon on Friday, October 1, 2021 at the Charlotte Harbor Event & Conference Center, 75 Taylor Rd., Punta Gorda.  Individual Tickets $75 or tables of SIX $375.  Buffet stations, cash bar.  Please register in the MIC (Member Portal).  Dress is business casual. reservation Deadline:  September 24, 2021.  No refunds after September 27, 2021.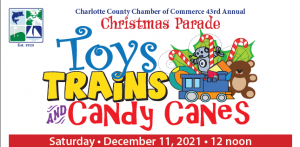 Enter your Float, Marching/Performing Unit or Decorated Car/Pick-up in the Charlotte County Chamber of Commerce 43rd Annual Christmas Parade being held on Saturday, December 11, 2021.  The parade steps off at noon from the Charlotte Performing Arts Center Parking lot, to travel out Carmalita Street, to travel North on Taylor Road, through Downtown Punta Gorda, to disband at the Charlotte Harbor Event and Conference center.  Entry Fee For-Profit $35     Non-Profit $20   (Add $5 for each horse).   For details Print the Parade Entry Form
FIRST THURSDAY ADVERTISER AGREEMENT is an exclusive opportunity for members of the Charlotte County Chamber of Commerce.  Submit your JPG or PNG file to promote your business, event or special offer.  Distributed to over 3,000 email contacts monthly.  Cost is $145 per issue * Non-profit rate $95 per issue.
Quarterly Newsletter Flyer Insert Agreement Members, let your 8 1/2 x 11 inch flat flyer ride with our quarterly newsletter (July/October/January/April) the "Charlotte County Chamber Business Perspective."  We need your 1,500 inserts by the 20th of the month before and there is a small cost.
Mailing List Agreement 6-1-20 [Compatibility Mode] An address file (Contact Person, Business Name and Address) is available for purchase as a one-time-use Excel file for active members only.