Mental Health Matters - A project by Leadership Charlotte 2022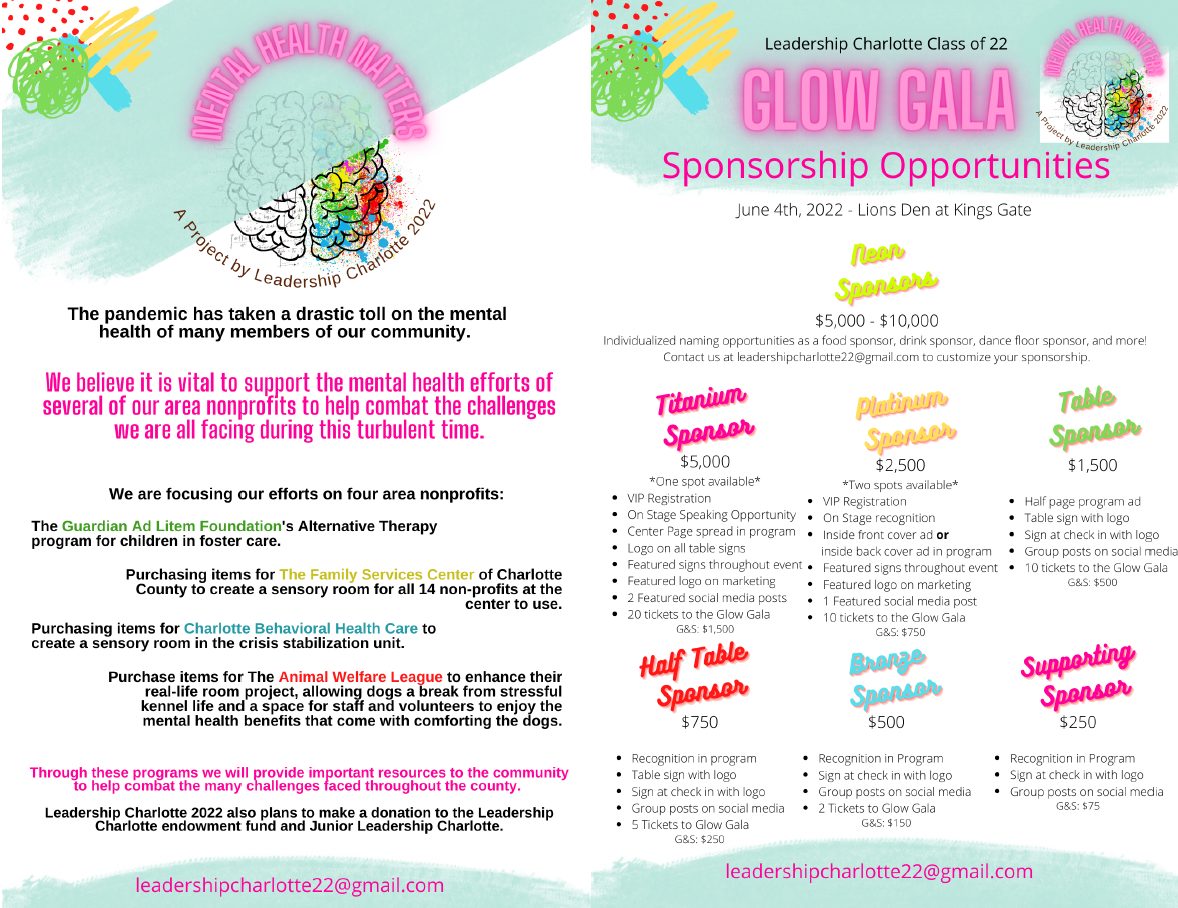 The Leadership Charlotte Class of 2022 is raising funds for Mental Health Matters with a "Glow Gala" scheduled for June 4th.
Funds raised will benefit four nonprofits. The Guardian Ad Litem Foundation's Alternative Therapy program for children in foster care. Purchasing items for The Family Services Center of Charlotte County to create a sensory room for all 14 nonprofits at the center to use. Purchasing items for Charlotte Behavioral Health Care to create a sensory room in the crisis stabilization unit, and to purchase items for the Animal Welfare League to enhance their real-life room project, allowing dogs a break from stressful kennel life and space for staff and volunteers to enjoy the mental health benefits that come with comforting the dogs.
Additionally the class plans to make a donation to the Leadership Charlotte Endowment fund and Junior Leadership Charlotte. Email them at leadershipcharlotte22@gmail.com for more information.
Leadership Charlotte Class of 2022

Congratulations to the Leadership Charlotte Class of 2022:
Adrienne Andreae (Re/Max Harbor Realty), Rose Askew-Hergenhan (Associate Member, Retired), Cristin Beverly (Crossed Keys Realty), Eric Burke (Charlotte County Sheriff's Office), Christine Carey (Valerie's House), Teresa Da Costa (Ashley, Brown & Smith, CPA's), Gwen Day (Fawcett Memorial Hospital), John Elias (Charlotte County Public Works), Dr. Christina Gonzalez (Private Practice), John Heck, Jr. (Charlotte County Sheriff's Office), BJ Jones (Michael Saunders & Company), David Lane (Charlotte County Clerk of the Circuit Court and County Comptroller), Ray Laroche (Charlotte County Airport Authority), Ryan Lybeck (Ambitrans Ambulance), Nicole Peet (Farr Law Firm), Cam Pennant (Charlotte County), Kimberly Phillips (Visual Arts Center), Barbara Roche (Port Charlotte Town Center), Becca Eldredge (The Loveland Center), Kimberly Rubino (The McCrory Law Firm), Callie Stahl (Peace River Wildlife Center), Diana Uebelacker (Busy Bee Cabinets), Sean Walter (Charlotte County/Punta Gorda/Englewood Beach Visitor & Convention Bureau), Greg Winkler (Florida Southwestern College/Collegiate High School) and Omar Zucco (The Daily Sun).
A program of the Charlotte County Chamber of Commerce
The Leadership Charlotte program brings together 25 individuals who are looking to increase their leadership skills and gain a better understanding of the opportunities and challenges in our community.
Participants in Leadership Charlotte commit to attend monthly day-long classes, as well as participate in whatever class project they select.  Alumni include bankers, clergy, lawyers, paralegals, accountants, small business owners, educators, realtor, artists, sales managers...the list goes on and on.
If you are interested in applying for the next class, applications are available in June.  There are attendance requirements and if accepted one must be a member of the Charlotte County Chamber, and there is a fee for tuition.
To learn more contact Bob White bwhite@charlottecountychamber.org or call 941-627-2222.