Leadership Charlotte Class of 2020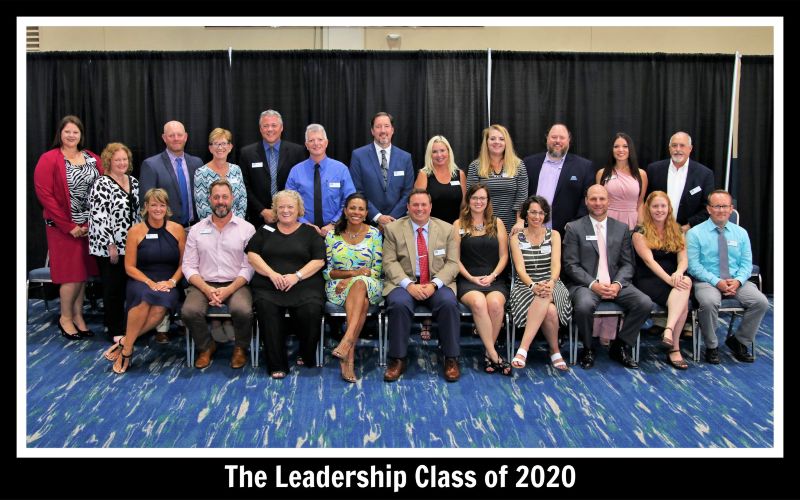 The Class:
Beverly Back - Nix & Associates Real Estate; Craig Badinger - Punta Gorda Symphony; Rosa Benghtt - Granny Nannies Home Health Agency; Bryon Catlin - Charlotte County Sheriff's Office; Tara Fabiano - Farr Law Firm; Christine Fankhauser - Helping Hands SWFL; Reppard Gordon - Caldwell Trust Company; Tamsen Hays - Wotitzky, Wotitzky Ross, McKinley & Young; Cody Henthorn - Tidewell Hospice; Suzanne Herron - Charlotte Community Foundation; Kenna Hubai - Charlotte County Public Works; Claire Jubb - Charlotte County Assistant Administrator; Garrett Kizer - Charlotte Harbor Construction; Tom Klein - Coastal Express Car Wash; Denise MacKenzie - Fawcett Memorial Hospital; Michael McLellan; Michael Mitchell - Florida SouthWestern Collegiate High School; Jay Montero; Michael Presley - Presley Beane Financial Services; Adriana Quinones - Peace River Botanical & Sculpture Gardens; Melissa Reichert - City of Punta Gorda; Laura Rich - Bank OZK; Gaither Stephens - Gulf Coast Partnership; Brittney Williamson; Terrance Wright - Integra Estate & LifeCare Services.
A program of the Charlotte County Chamber of Commerce
The Leadership Charlotte program brings together 25 individuals who are looking to increase their leadership skills and gain a better understanding of the opportunities and challenges in our community.
Participants in Leadership Charlotte commit to attend monthly day-long classes, as well as participate in whatever class project they select.  Alumni include bankers, clergy, lawyers, paralegals, accountants, small business owners, educators, realtor, artists, sales managers...the list goes on and on.
If you are interested in applying for the next class, applications are available in June.  There are attendance requirements and if accepted one must be a member of the Charlotte County Chamber, and there is a fee for tuition.
To learn more contact Bob White bwhite@charlottecountychamber.org or call 941-627-2222.