Charlotte County Chamber presents informative new application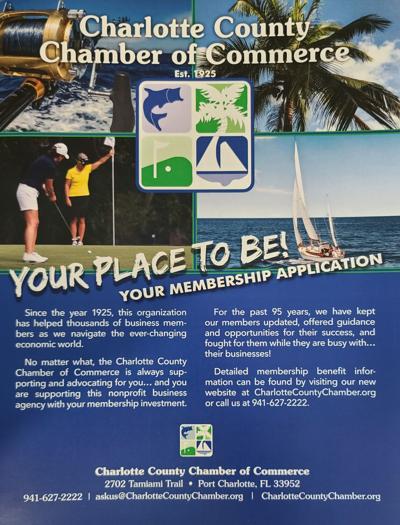 Looky what we have. The Charlotte County Chamber of Commerce has a brand new membership application. However, it is oh-so-much more.
We have graduated from the iconic (OK, outdated) small tri-fold brochure on light gray paper to a full-sized, full-fledged, four-page folder that answers all of the "whys" … and then some.
To be honest, most applications for anything are pretty typical. Put your payment info here, your contact info there, and thank you very much. We felt it was time to do a major expansion.
Our membership application now includes an overview of the Charlotte County Chamber of Commerce, and a page of easy-to-follow bullet points explaining the benefits of membership. The listed benefits include:
• New Member Orientation — or Chamber 101 — is conducted quarterly in January, April, July and October on the third Wednesday of the month from 8:30 a.m. until 9 a.m. at the Charlotte Harbor Event and Conference Center. Learn everything you wanted to know about the Charlotte County Chamber of Commerce but were afraid to ask.
• Promotional materials can be displayed in our offices. This is the first place customers visit and call for recommendations.
• Listings on our new website at charlottecountychamber.org have a variety of tools for your use. Add your logo for a prominent presence and describe your business, products and services to the world.
• Membership plaques displayed in physical locations, websites and social media show proud affiliation with the Charlotte County Chamber of Commerce. This is a symbol of credibility and community involvement that, in turn, generates recommendations.
• The printed Business Perspective newsletter is full of informative events and marketing opportunities. And for a small cost, your full-page flier can also be included in the 1,500 newsletters that hit mailboxes the first week of each month.
• Business Online is the e-newsletter emailed Monday mornings to more than 3,000 subscribers. All members are encouraged to "toot their own horns" each week at no additional cost. Email 90 words or fewer to Teri Ashley at ashley@charlottecountychamber.org before noon on Friday to publicize your upcoming events, new staff, services or products, job postings, specials or general announcements.
• It's the "Hottest Business Day in Paradise Expo" each year at the Charlotte Harbor Event and Conference Center and averages more than 1,500 attendees. Members obtain booth space for the day-long event to promote their business to business decision makers, residents and visitors. Additional beneficial opportunities are also available. There are reasons why this expo is so hot, after 10 years.
• Ribbon-cutting ceremonies let you showcase your new membership, new business or new location. They can coincide with a grand opening, anniversary or newest renovation party as well. Don't have a physical location? That's quite all right. This can be done just about anywhere you want. Contact the chamber today to schedule your custom ribbon-cutting ceremony.
• You are recognized as a business that supports its community and the businesses of its customers and associates.
And there is more. This colorful folder also explains the cost for businesses of different types, nonprofit organizations and individuals. There are easy payment options and clear chamber contact numbers.
The bottom section of the back page is very special. It showcases our 2020-2021 Sustaining Partners … the businesses that have contributed more this year, which allows us to do more for the community. That is what the Charlotte County Chamber of Commerce is all about, and has been for 95 years.
Teri Ashley is the executive director of the Charlotte County Chamber of Commerce, now in its 96th year. She can be reached at 941-627-2222 or at tashley@charlottecountychamber.org.