Book THE local historic Victorian wedding venue now!
Book THE local historic Victorian wedding venue now! [Charlotte Sun Column 3-2-20]
By TERI ASHLEY
I just couldn't wait any longer to share the news with you all. This project has been developing (in my mind) for years and it's time for the big "TA-DA!"
Do you hear the brass fanfare? The drum roll? Or the strumming of harps, depending upon your taste? Yes? Ok, proceed!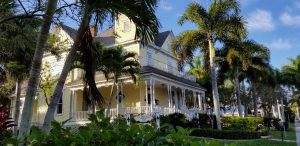 The Victorian A.C. Freeman House, build in 1903 in picturesque downtown Punta Gorda, is now officially available as a beautiful new venue for wedding ceremonies accommodating from two to 50 attendees. Located one block from Charlotte Harbor, and with many reception locations within walking distance, there is not a location more perfect.
Couples have their choice of authentic backdrops to use while reciting their matrimonial vows including the white-wicker sunroom, the intimate foyer crowned by a majestic crystal chandelier, in front of two original fireplaces – one with brown wood and red brick, and the other with an all-white hearth and mantle. Of course, in front of the grand parlor bay window is the setting of choice and will allow for the most guests. *Sigh*
This venue option is available at a simple flat fee for three hours. For members of the Charlotte County Chamber of Commerce and their immediate family, that fee is $500. For non-members, the fee is $750. You can arrange the furnishings however you wish, and decorate as elaborately or as little as you wish … or not at all. Additional hours can be added if needed.
Promotional materials and internet postings with photos will be coming soon, but bookings have already begun. Please contact me at 941-627-2222 or tashley@charlottecountychamber.org for all of the details. There honestly isn't much fine print with this venue option. The majestic A.C. Freeman House speaks for itself.
February new members
The value of membership with the Charlotte County Chamber of Commerce is known to approximately 1,000 members including those who joined our growing ranks in February:
The Alzheimer's Association; Carolyn Gorton - Coldwell Banker Residential Real Estate; Coastal Expressions and Wine, LLC; DK Consultants of Florida, LLC; Fileman Law Firm, PA; Learn to Sail, Inc.; Payne Ryan, PLLC; Phoenician Treatment Spa; Second Wind Signs and Graphics; Solar Solutions FLA; and The Grill at 1951.
Welcome to the Wonderful World of the Charlotte County Chamber of Commerce!
Chamber member events
The Government Affairs Committee will be meeting at 5 p.m. this afternoon in the Port Charlotte office, followed tomorrow morning by a ChamberACTION Committee Meeting also at the Port Charlotte office. On Wednesday at 5:30 p.m. we will join Cora Physical Therapy, 2150 Tamiami Trail, Unit #9 Port Charlotte, for a ribbon cutting celebration and to learn all about their business.
Events will be picking up as the month continues, and don't forget to take in as many Rays Spring Training games as possible.
I do, I do
   My family will be so proud. It seems that all of my past wedding experience is FINALLY coming in handy!
Teri Ashley is the executive director of the Charlotte County Chamber of Commerce, now in its 95th year, with offices in both Punta Gorda and Port Charlotte. She can be reached at 941-639-2222 or at tashley@charlottecountychamber.org.